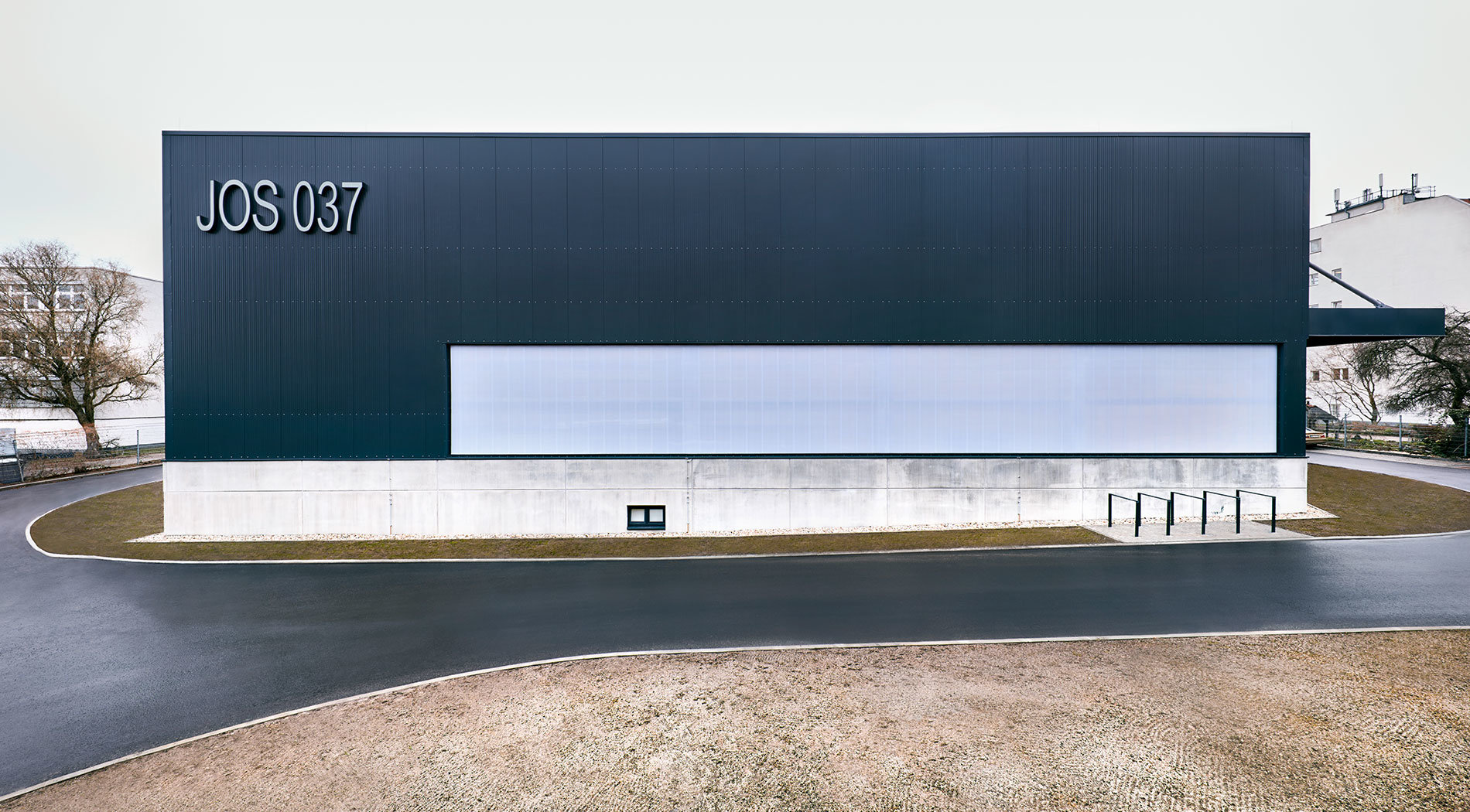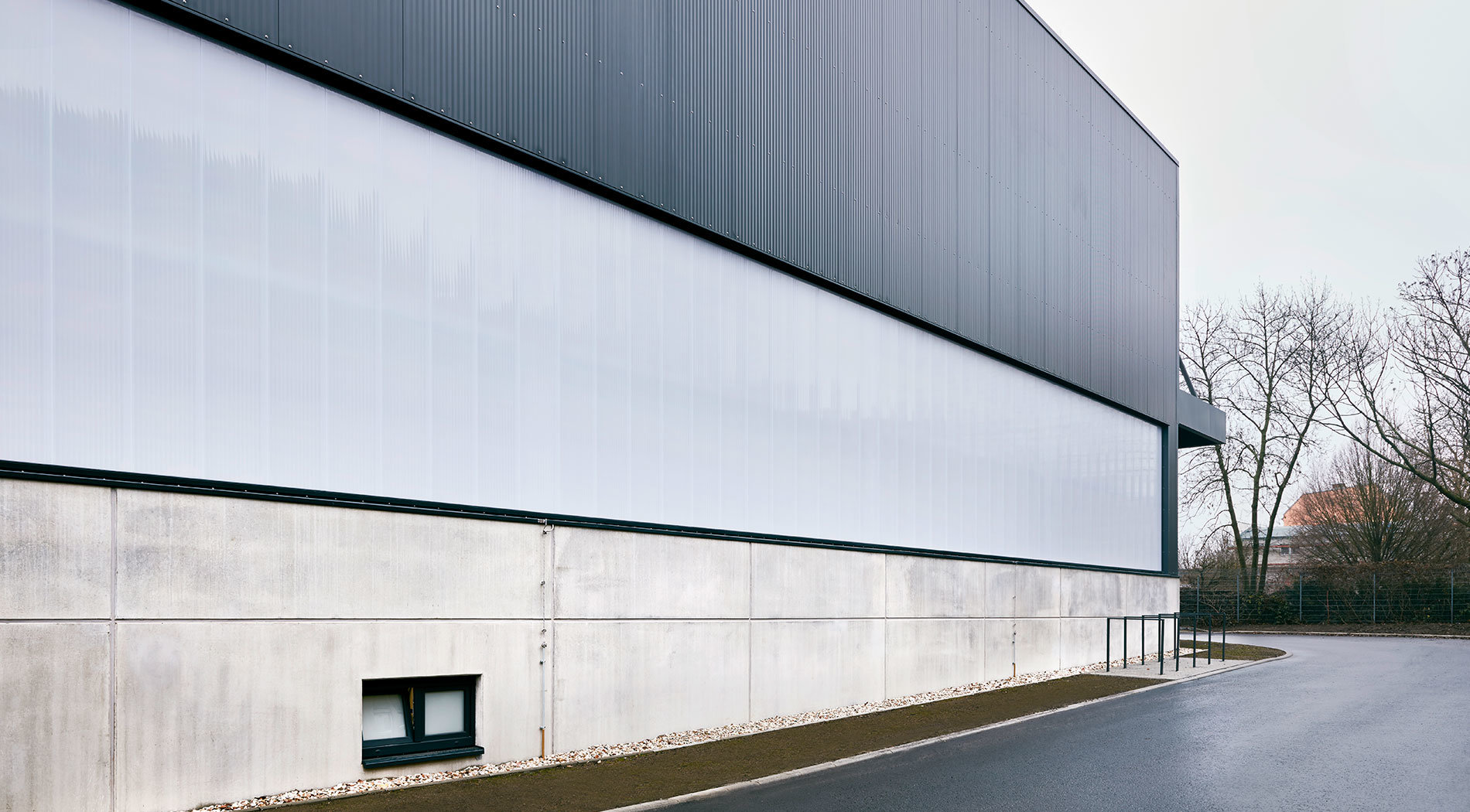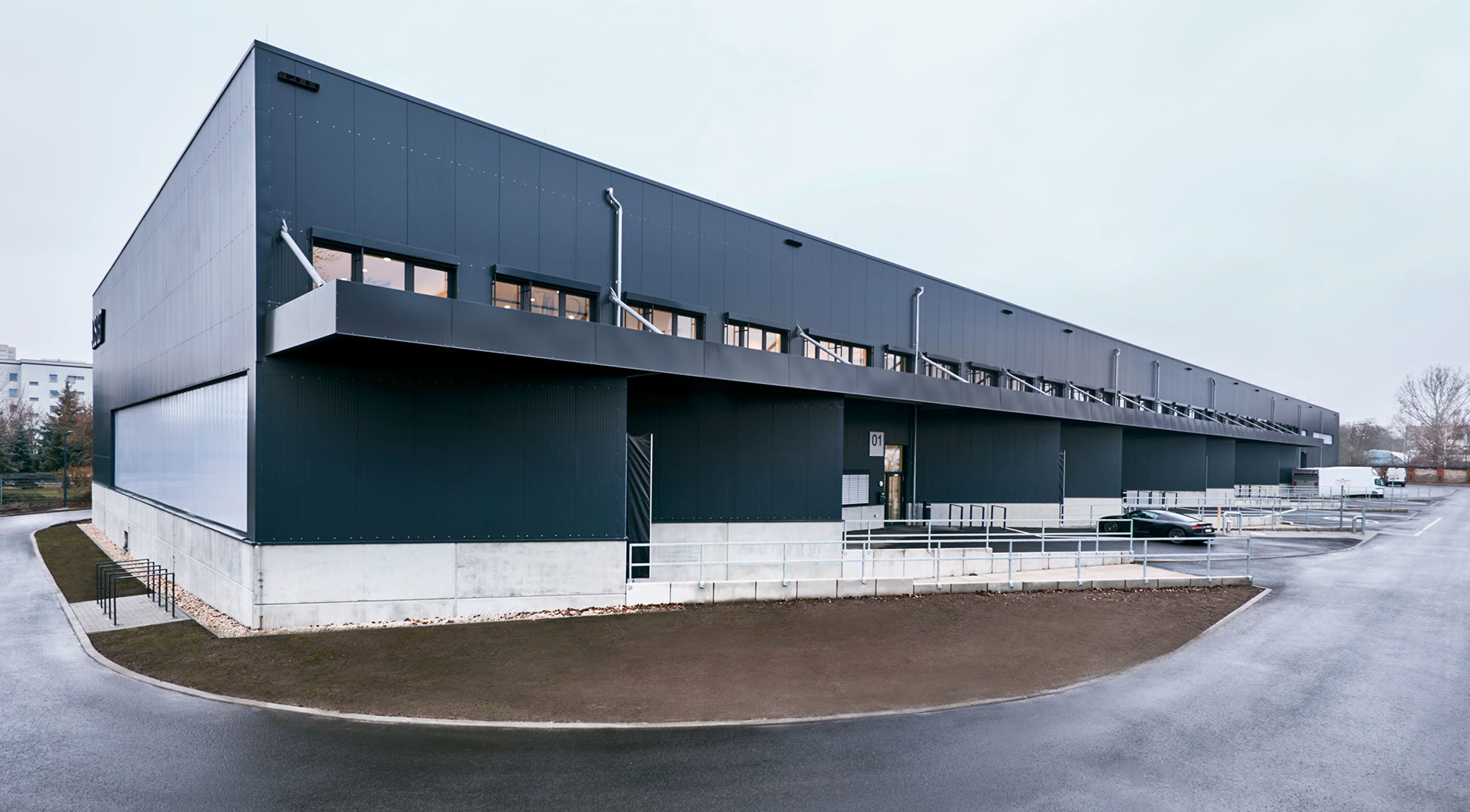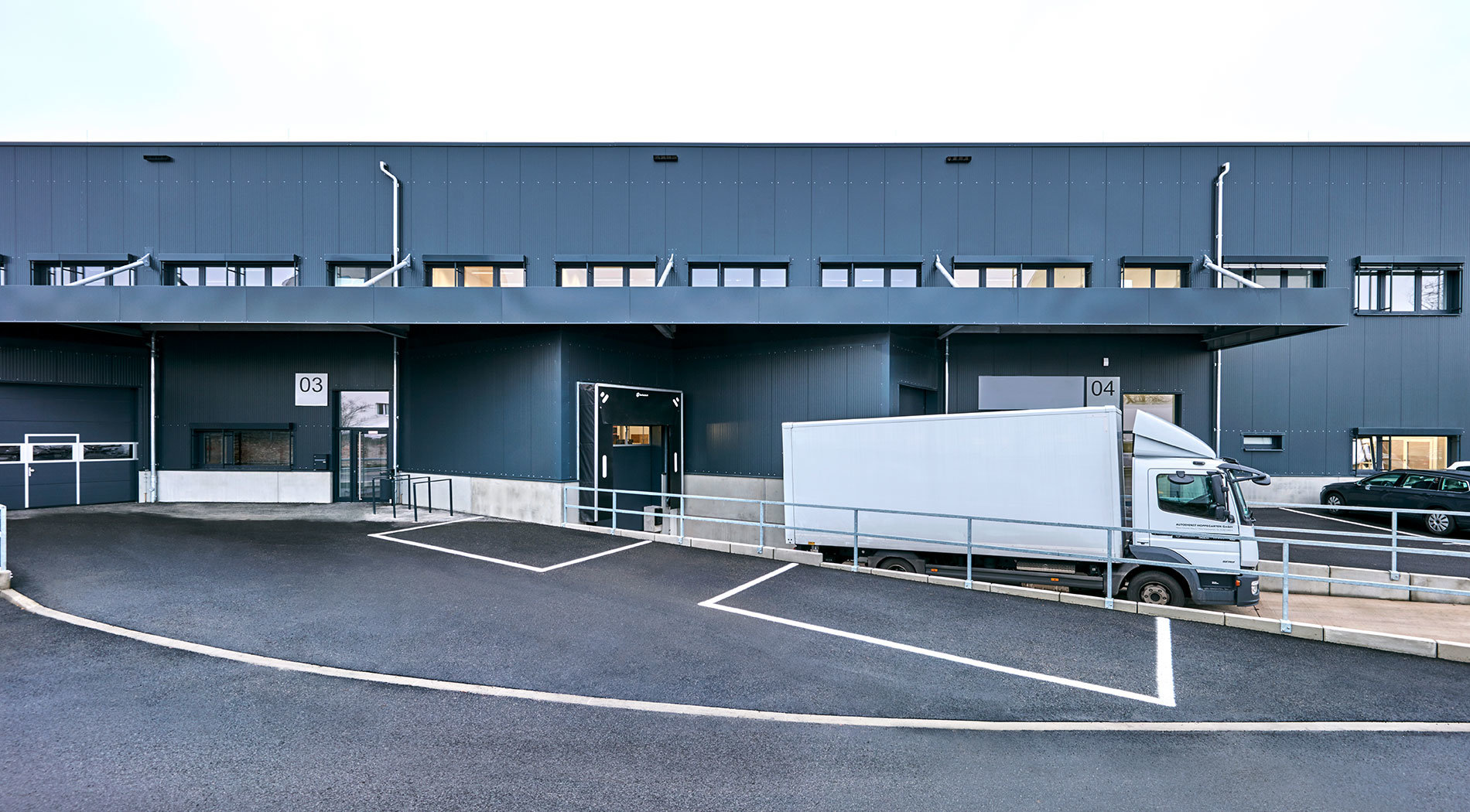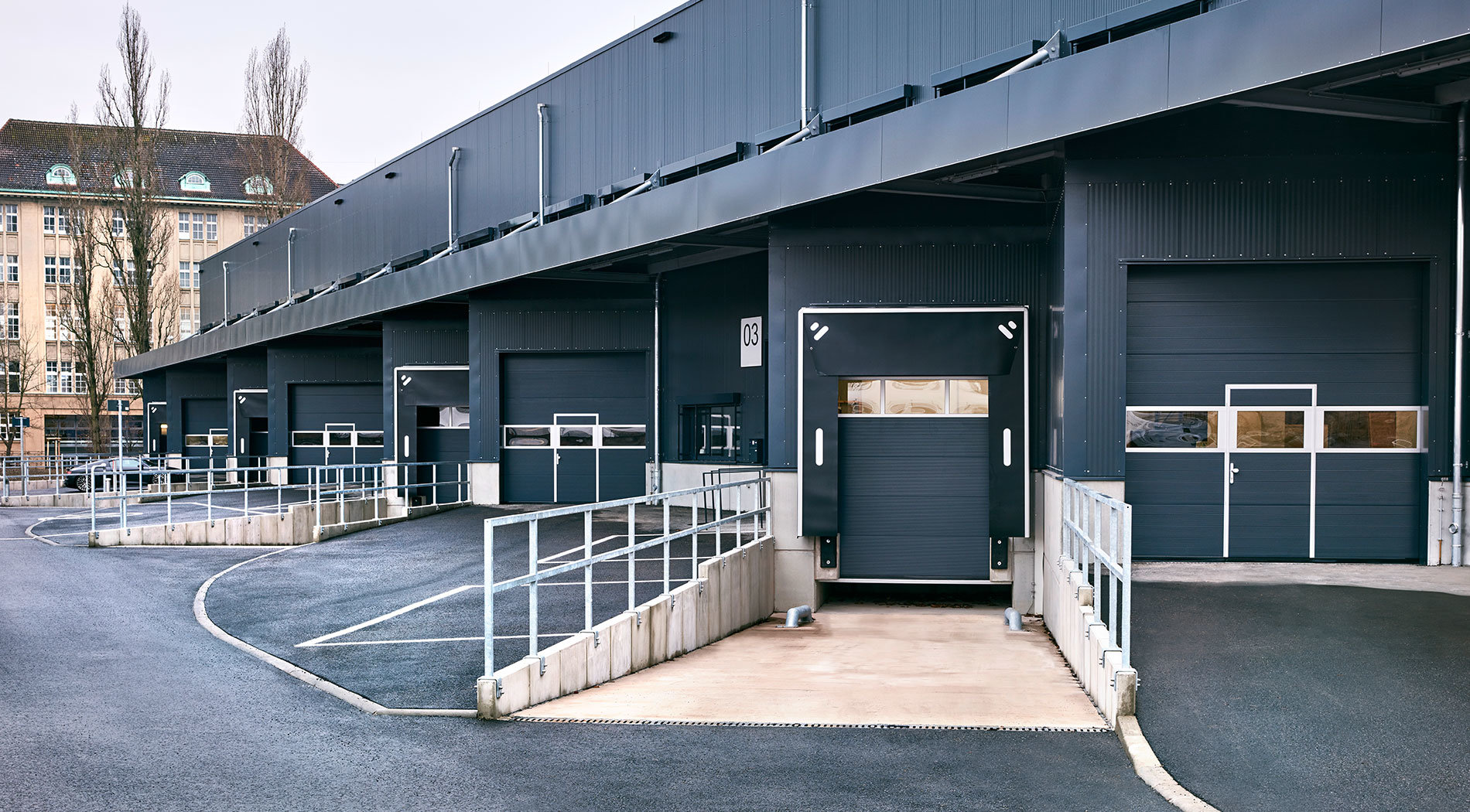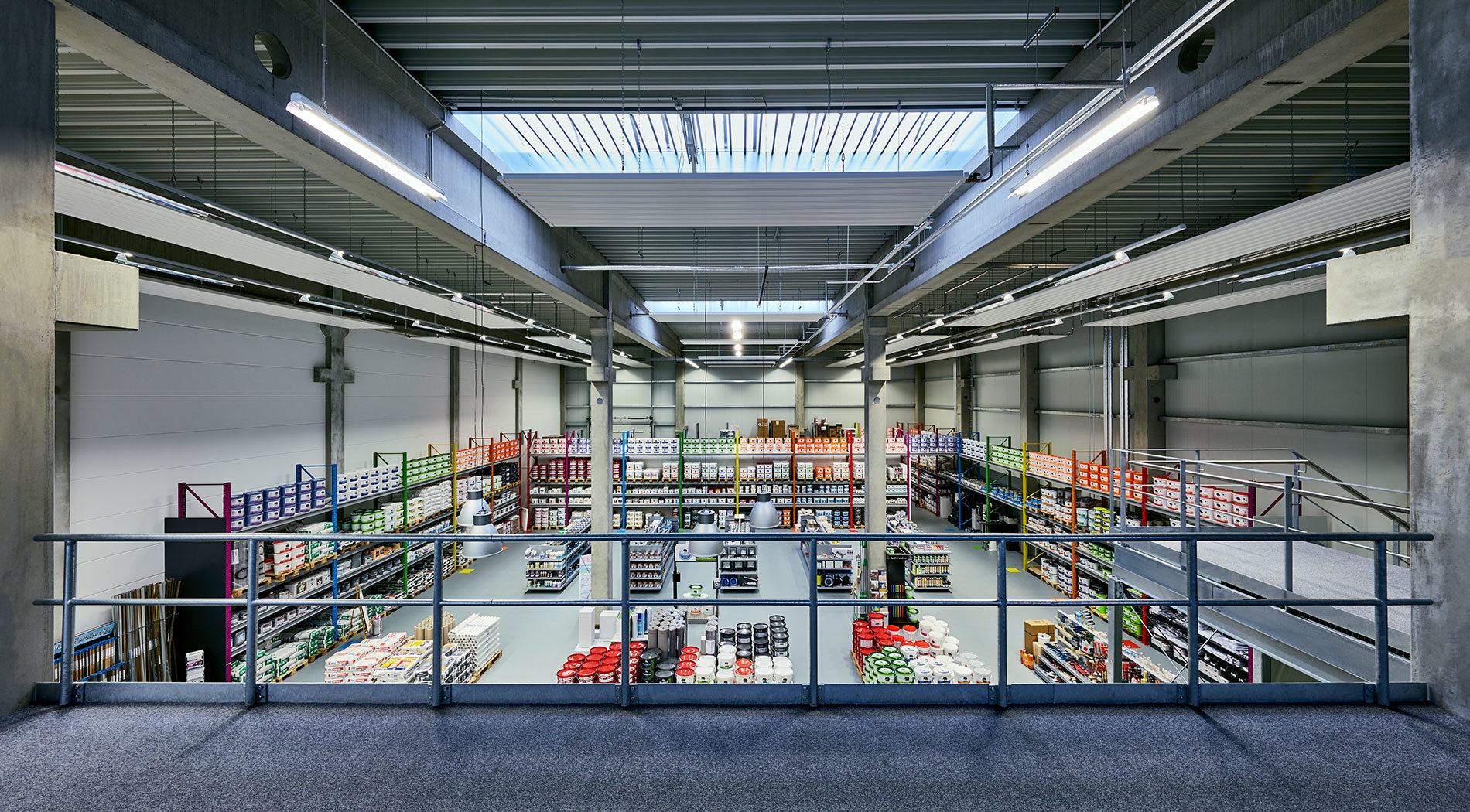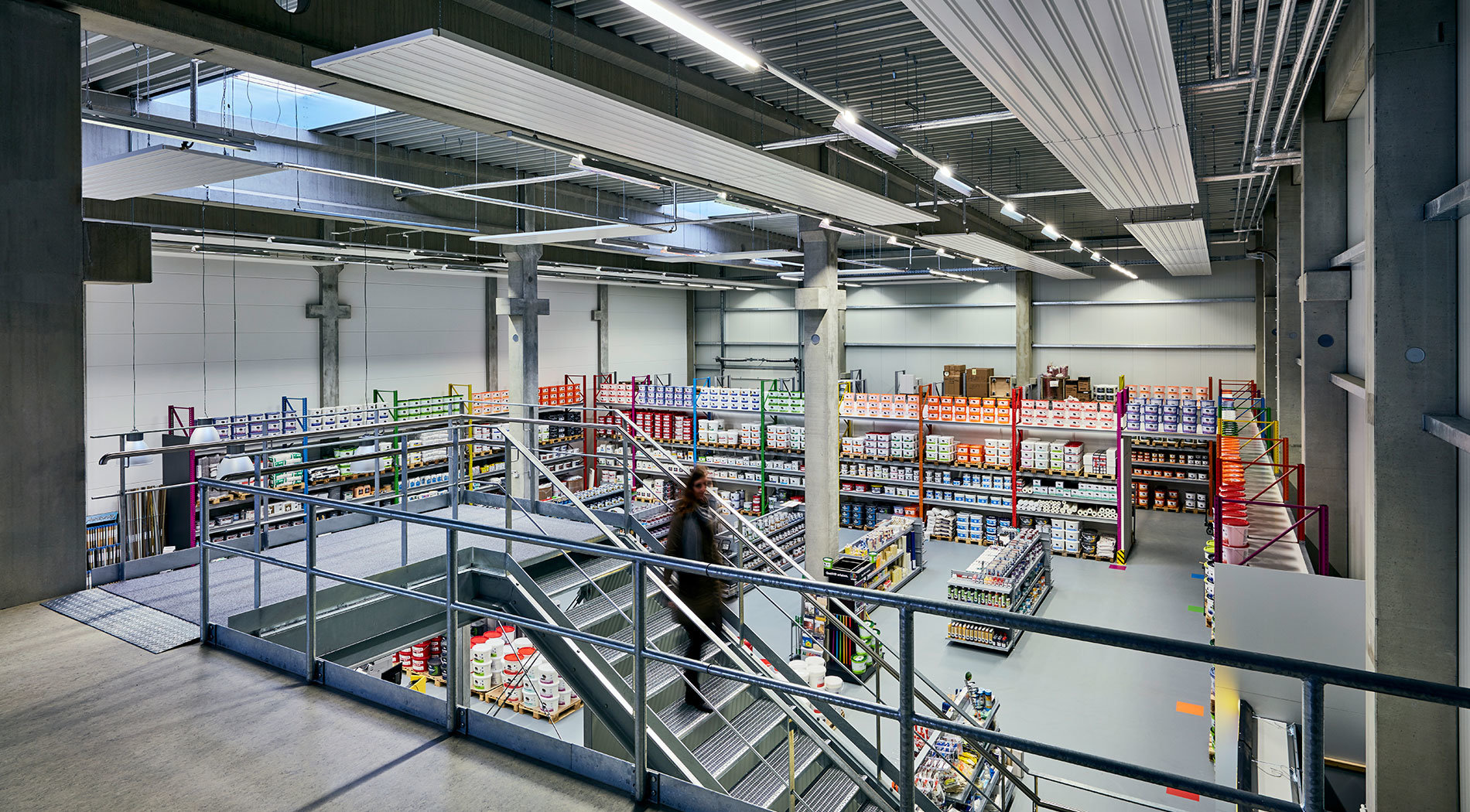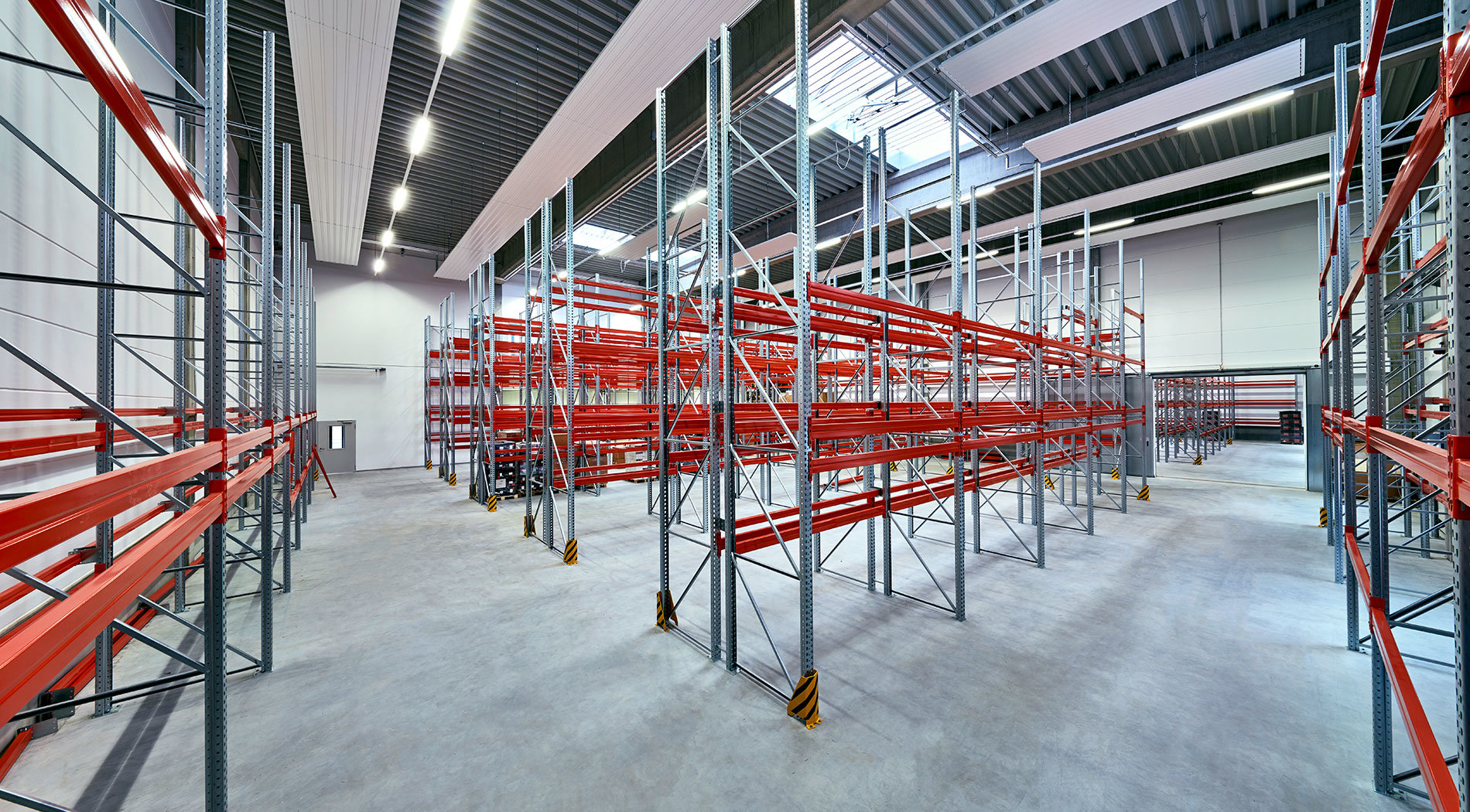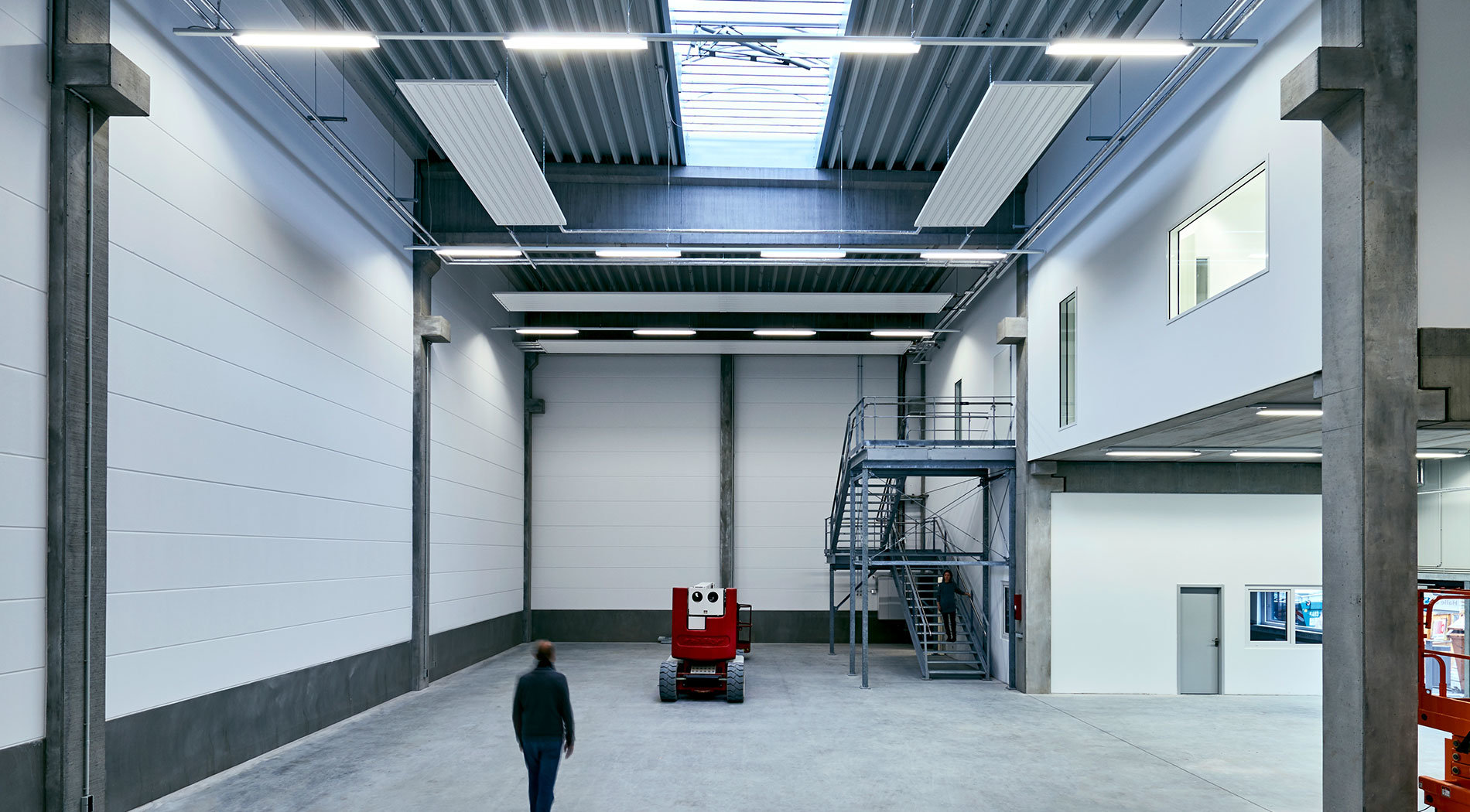 Kenndaten
Bauherr:
Privater Bauherr, in Vertretung durch DQuadrat Real Estate GmbH
Nutzung:
Logistikhallen und Büroflächen
Lage:
Berlin-Lichtenberg
BGF:
6.660 m²
Leistungsphasen Ausbau:
1–4
Fertigstellung:
2016

Fotograf:

Mark Seelen
Im Auftrag eines privaten Bauherrn entstand in Berlin-Lichtenberg eine Gewerbehalle für Logistik und Produktion. Für eine möglichst mieterspezifische Nutzung wurde eine Halle entworfen, die bei Bedarf eine kleinteilige Vermietung von einzelnen Segmenten ermöglicht.
Der Gewerbebau umfasst eine ca. 5.500 m² große Fläche für Logistik/Produktion und eine Mezzanin-Etage mit ca. 1.000 m² für Büronutzung. Insgesamt wurden bis zu acht unabhängige Hallenabschnitte konzipiert, die getrennt genutzt, aber bei Mieteranforderungen auch miteinander verbunden werden können.
Die vier vorderen Hallen für den Anlieferungsverkehr mit einer Fläche von jeweils rd. 900 m² verfügen über eine vordere Ein- und rückwärtige Ausfahrt sowie Büroflächen im Mezzanin-Geschoss. Im Gegensatz dazu wurden im hinteren Gebäudeabschnitt vier kleinteilige Hallenabschnitte mit jeweils 450 m² als Lagerflächen für den Großhandel konzipiert.
Die noch vorherrschenden Fundamente des vormals als Speiseöllager genutzten Standortes, der zu schützende Baumbestand sowie die Anforderungen der umlaufenden Erschließung bestimmen Ausrichtung und Kubatur des Gebäudes. Im Vordergrund des Entwurfs standen die Flexibilität der Hallensegmente sowie ein wirtschaftliches Anlieferungskonzept. So wurde eine offene Hallenkonstruktion mit im Innenraum ablesbaren Stahlbetonstützen gewählt, die zu teil- und mietbaren Hallenabschnitten führt. Durch die in ihrer Höhe variierenden Betonsockel sind zudem verschiedene Anlieferungssituationen möglich. Der Anliefer-Parcours im Außenraum wurde in seiner Gestaltung mit geringster Flächenausnutzung angelegt und ermöglicht einen reibungslosen Ablauf.
Die zurückhaltende Gestaltung der Halle mit anthrazitfarbenen Blechelementen und einem hellgrauen Betonsockel, durch transluzente Lichtbänder und Fensterreihen vereinzelt ergänzt, verleihen dem Gebäude eine schlichte Eleganz, wo sich Raum und Oberflächen der Nutzung unterordnen.
Dates
Owner:
Private Owner, represented by DQuadrat Real Estate GmbH
Use:
Logistics building and offices
Location:
Berlin-Lichtenberg
GFA:
6.660 m²
Service phases construction:
1–4
Year:
2016

Photographer:

Mark Seelen
A private client commissioned a commercial building for logistics and production in Berlin-Lichtenberg. We designed a hall for maximum tenant-specific use that permitted small-scale leasing of individual segments, if required.
The commercial structure includes an approximately 5,500 m² area for logistics/production and a mezzanine level with approximately 1,000 m² for office use. A total of eight independent hall sections were designed for individual use. They can, however, be combined to meet tenant requirements.
The four front halls for delivery traffic, each with an area of 900 m², have both drive-in and loading dock access as well as office space on the mezzanine floor. In contrast, four small hall sections in the rear portion of the building were designed as warehousing for the wholesale trade, each with an area of 450 m².
The dominant foundations remaining at the location, which was previously used for edible oil storage, preservation of existing trees and the need for access from all sides determined the orientation and volume of the building. Flexibility of the hall segments and an efficient delivery concept were given priority in the design. So an open hall structure was chosen with visible reinforced concrete columns in the interior space, resulting in sub-dividable, leasable hall sections. The varying height of the concrete base also enables various delivery solutions. The design of the exterior delivery layout minimises the area consumed and facilitates a smooth process.
The restrained design of the hall, with its anthracite-coloured metal panels and light grey base, sparingly enhanced with strips of translucent glazing and rows of windows, lends the building an understated elegance, where space and finishes are subordinate to utility.